Introducing the MOL COILPORTER®, a Differentiated Product for NVOCC Business
Introducing the MOL COILPORTER®, a Differentiated Product for NVOCC Business
~ Next-generation Cradle in Steel Coil Container Transport ~
TOKYO— MOL Techno-Trade, Ltd. (MOL Tech; President: Hirokazu Hatta) today announced the joint development of the MOL COILPORTER®—an innovative new way to secure steel coils during container transport—along with Mitsui O.S.K. Lines, Ltd. (MOL; President & CEO: Junichiro Ikeda, Headquarters:Minato-ku,Tokyo) .
【Video of MOL COILPORTER®】
Please refer to MOL's official YouTube channel for details on the MOL COILPORTER®.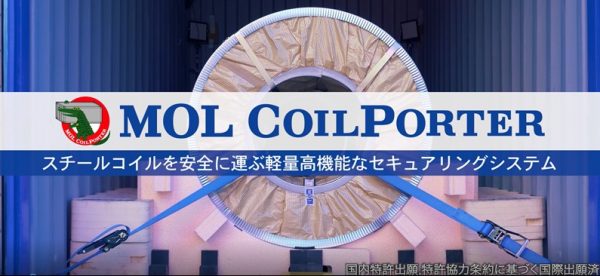 【Outline of MOL COILPORTER®】
The MOL COILPORTER® is the new cradle used to lash steel coils, an essential material for automobile manufacturing and other industries, to ensure safer containerized transport. Via Mitsui O.S.K. Kinkai, Ltd. (President: Kenichi Nagata; Headquarters: Minato-ku, Tokyo), which offers transport service for steel materials in the MOL Group, Utoc Corporation (President: Masahiro Tanabe; Headquarters: Yokohama-shi, Kanagawa Prefecture), and MOL Logistics (Japan) Co., Ltd. (President: Shuhei Togo; Headquarters: Chiyoda-ku,Tokyo) shared customers' requests and cooperation with Mitsui O.S.K. Lines, and to creative approaches to address every detail during the development of the MOL COILPORTER®.
The MOL COILPORTER® trademark has been registered in major countries. And it is already patented in Japan (Patent No. 665025), with several other patents pending (Note 1).
Differences from the conventional lashing are as follows.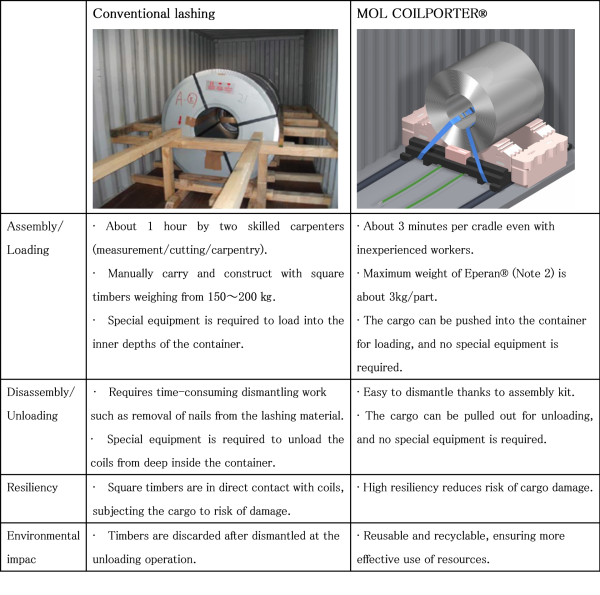 【Our Role in the Development and Management】
MOL Tech took part in the new business model embodiment by the MOL Group to offer stress-free services to customers. As the core technical trading company of the MOL Group that aims to be the No.1 in environment and safety, MOL Tech showed it's cultivated technical knowledge about marine transportation, deep profound knowledge on-site, close collaborative relationships with ship machinery companies and in order to  realize on-site security, effective cargo work and reduction of environmental load MOL Tech elaborate plans and commercialized MOL COILPORTER®.
In addition, we take the role to supply MOL COILPORTER® to MOL Logistics who offers NVOCC service to customers. With the cooperation of both companies, we offer our customers with an effective distribution service.
【Future Endeavors】
Through the development of MOL COILPORTER®, MOL Tech opened up a new field of "technology development in the field of logistics" and added this to our product lineup. With this as the beginning, we will continue to cooperate with MOL Group companies, ONE MOL as our motto, and offer value-added stress-free logistics services to customers.
(Note 1) The claims of JP Patent No. 2017-230685/ 2019-018608/2019-031874/2020-008416/2020-052603
(Note 2) Registered trademark of Kaneka Corporation. Foamed polyethylene developed by Kaneka. The material has excellent cushioning properties and resiliency and is lightweight.
(Note 3) For details of the MOL COILPORTER® and contact information, please visit the following MOL Logistics website. (https://www.mol-logistics-group.com/en/index.htm)